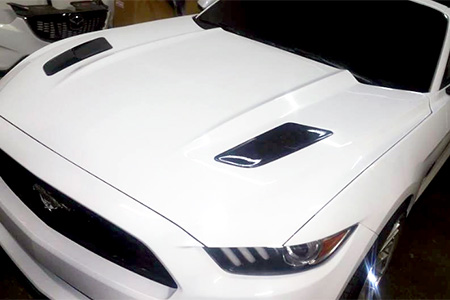 Your headlights are more than just a convenience—they're a safety feature. Driving at night or in inclement weather without reliable headlights means putting yourself and others in danger.
Let the team at Creation Collision Center provide you with instant headlight restoration in Chandler, AZ, so you can light the way ahead reliably and brightly each and every time you click on your lights.
Buffing and Polishing
Over time, headlights are subject to fogging up due to condensation. This can lead to discoloration and dulling, which makes it harder for your headlights to shine brightly. Through buffing and polishing, we're able to remove this fogging and restore the clarity to your headlights, saving you the cost on replacements.
In addition to cleaning up your headlights to allow more light to shine through, defogged lights also make your car look better and restore its appeal. It's a great way to boost your car's aesthetic, while also improving its safe driving capabilities.
Why Choose Headlight Restoration?
Choosing headlight restoration over replacements is a great choice for many reasons, including:
Saves the cost of replacement parts
Quicker than a full light replacement
Maintains stock OEM part
Non-invasive restoration option
The superior choice is headlight restoration, provided by professionals who can quickly and thoroughly restore the clarity to your car's lights. If you're ready to restore the function and effectiveness of your headlights, choose Creation Collision Center. Our experts can quickly muff and polish your lights, no matter the make and model of your vehicle. We work quickly and do a better job than any out-of-the-box headlight cleaning kit, for results you can see.
Give us a call at 480-650-6565 today to inquire about our ability to restore your car's lights, so you can see clearly at night and during inclement weather.